TWAS award winning Math and Science 3D Computer Software developed by Prof Peet van Schalkwyk are used to allow educators and learners to experience these subjects visually.
Grades R up to Grade 12 are all covered through visual demonstrations on every concept together with exercises, experiments, and levels of difficulty in both languages.
Skills development as from Gr RR to Grade 7 is done through topics like, reading, spelling, perception, association, creativity, art, math with products like 123 SLIM and 123 SMART.
Shop now
Education Platform offers a wide range of training in Math and Science and Education Topics for the whole staff component.
Together with Power Point lessons covering all grades in both English and Afrikaans, it lays a strong foundation for high standards of teaching and performing excellent results for learners.
All topics of staff development like Leadership and Management, Personal Development, SSE, SDP, SIP, IQMS, Time Management, Conflict Management, Parent Involvement, Study Methods etc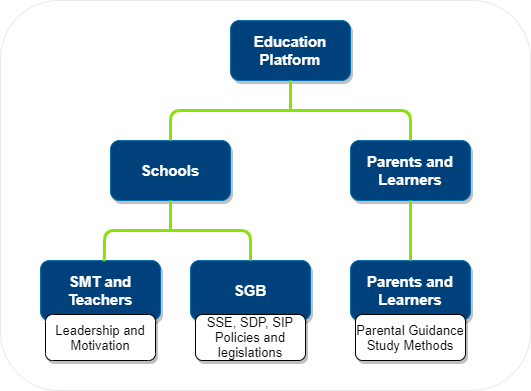 Projects are sponsored by different Solar Farms in Northern Cape.
Presently we are running Math and Science projects in Northern Cape, sponsored by Solar Farms to over 30 schools. Our target groups are Math and Science educators. Supplying them with High Standard Technology, White Boards, 3D Computer Products, Quarterly Power Point worked–out lessons according to ATP's of Department of Education.